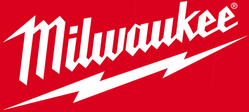 M18 Caulking and Adhesive 310ml Gun
The cordless caulk and adhesive gun offers the most bead control. Deliver caulk or adhesives smoothly and steadily, even with the highest viscosity materials, with the incredible pushing force of the M18 Cordless 310ml Caulk and Adhesive Gun. All-metal gears provide 4500Nm of force, and CFT Constant Flow Technology eliminates motor oscillation for steady dispensing and even beads at all viscosity levels. A variable-speed trigger and six-setting maximum speed dial optimise the toolÆs 0-212.54CMPM flow rate. The exclusive MILWAUKEE anti-drip mechanism prevents oozing of excess material when the trigger is released. A rotating collar gives you maximum bead control around turns, and the quick-change carriage design lets you change between 310ml, quart and sausage-style containers. The M18 REDLITHIUM Battery (sold separately) lets you dispense more than 200 310ml tubes of construction adhesive on one charge. The gun comes with a 310ml carriage, 310ml plunger rod and piston assembly.
Features:
All-metal gears: Delivers 4500Nm of dispensing force for the highest viscosity materials.
REDLITHIUM-ION Battery Technology: Superior pack construction, electronics and performance deliver more work per charge and more work over pack life.
Variable-speed trigger: Allows for maximum flow-rate and bead-width control.
CFT Constant Flow Technology: Offers steady flow rate and even beads at all viscosity levels.
Anti-drip mechanism: Instantly stops material from dripping upon trigger release.
Rotating quick-change collar: Accepts all MILWAUKEE« quick-change configurations: 310ml carriage, quart-size carriage, and 600ml sausage barrels.