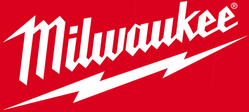 Milwaukee M18 Fuel One-Key Hammer Drill Imp Driver 5.0AH kit (contains Hex Impact Driver, Hammer Drill/Driver, 2 x 5.0Ah Red Lithium Batteries, Slide Handle, 2 x Belt Clips, 2 x Bit Holder, M12-18 Dual Volt Charger & Carry Case)
The M18 FUEL ONE-KEY Power Pack 2A includes the M18 FUEL 13mm Hammer Drill with ONE-KEY (M18ONEPD-0) and the M18 FUEL ╝ö Hex Impact Driver with ONE-KEY (M18ONEID-0). The Hammer Drill is the Most Powerful 18-volt cordless hammer drill on the market, delivering 1,200 in-lbs of peak torque and up to 2,000 RPM, providing faster drilling speed under heavy load to increase productivity. The M18 FUEL 1/4ö Hex Impact Driver is the Most Powerful Impact Driver in its class at 1800 in-lbs of fastening torque. M18 FUEL features the most advanced cordless technology available; a POWERSTATE Brushless Motor, REDLINK PLUS Electronic Intelligence and REDLITHIUM Battery Technology, resulting in longer motor life, more run time and more power. Both tools are ONE-KEY enabled, allowing users to wirelessly connect to the tool with a smart phone to provide unlimited customization and control of the toolÆs performance.
Features:
MILWAUKEE« POWERSTATE Brushless Motor provides more power, more run-time, and longer life.
REDLINK PLUS Electronic Intelligence enables advanced communication between your batteries and tools, allowing for unmatched levels of performance, protection, and productivity.
The MILWAUKEE« REDLITHIUM-ION battery pack is the most durable pack on the market delivering more run-time, power and longer battery life.
Compact design, reducing fatigue when used for extended periods of time and allowing access to tight work spaces.
Individual battery cell monitoring optimises tool run-time and ensures long term pack durability.
Bright LED light for workplace illumination.