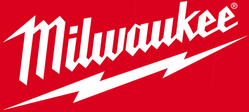 Milwaukee M18 Utility Bucket Light
The Industry's first Utility Bucket Light, The M18 LED Utility Bucket Light (M18UBL-0) is going to revolutionise the way Power Utility Lineman work in a bucket by offering versatility with itÆs three light modes, dual light head design that allows the user to spot and flood with one light or its Extreme Weather and High Voltage durability built for use in harsh conditions and environments. Its pantented spring loaded bucket clamp fits all size bucket lips and allows the user to move the light around the bucket effortlessly. The M18 LED Utility Bucket Light can run up to 4 hours on flood mode and spot/flood mode with an M18 REDLITHIUM-ION HIGH DEMAND 9.0Ah Battery and up to 6 hours on spot mode.
Features:
Dual light head design with 180░ of vertical and horizontal head rotation.
Three output modes: Spot, Flood, Spot/Flood (457m beam distance).
Patented spring loaded bucket clamp for all bucket sizes.
IP56 rated for extreme weather and high voltage.
Sealed battery compartment.