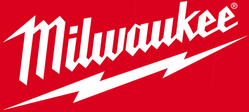 Milwaukee M18 FUEL 1/4" Hex Impact Driver with ONE-KEY - Tool only
The M18 FUEL ╝ö Hex Impact Driver features a POWERSTATE Brushless Motor that delivers 0-3,600 RPM and 226Nm of fastening torque with constant power output under heavy load to drive screws faster. REDLINK PLUS Intelligence is the most advanced electronic system on the market, preventing damage to the tool and battery caused by overloading or overheating. REDLITHIUM-ION Batteries deliver more work per charge and more work over the life of the pack than competitive batteries on the market. Compatible with ONE-KEY, this is the industryÆs first Impact Driver that wirelessly connects to a smart phone to Customise, Track and Manage a toolÆs performance and location. Unlimited tool customisation allows you to connect to the tool and access predetermined set-ups for specific fasteners and materials, or have complete control over output speed and power for the specific application at hand.
Features:
Easily toggle between up to four custom performance profiles that can be saved to the memory of the tool.
Deliver 226Nm of fastening torque for faster driving speeds.
Prevents damage to the tool and battery due to overloading or overheating.
Deliver more work per charge and more work over the life of the battery.